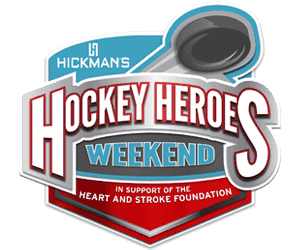 THIRD EDITION OF HOCKEY HEROES TO LAUNCH FRIDAY, JANUARY 22
LAUNCH WILL ANNOUNCE A HALF DOZEN NHL ALUMNI PLAYING IN PARADISE, NL THIS MAY
ST. JOHN'S, NL, JANUARY 20, 2016 – On Friday, January 22nd, Hickman Automotive Group and The Heart & Stroke Foundation, Newfoundland And Labrador will launch the third provincial edition of Hockey Heroes. Hosted at the Paradise Double Ice Complex from April 29th to May 1st, the tournament will give teams who take part in fundraising the opportunity to share the ice with a number of NHL legends.
The launch will announce part of their lineup of retired NHL players who will travel to the province to raise funds and awareness for the Heart and Stroke Foundation. The last two events have seen a significant amount of money raised for the organization, which funds research, health promotion and life-saving programs for the people of Newfoundland And Labrador.
Mary Ann Butt, CEO of The Heart and Stroke Foundation, Newfoundland And Labrador says, "In creating more survivors in the province, The Heart and Stroke Foundation aim to inform and aid the people of Newfoundland And Labrador in memorable ways that foster meaningful change. Hockey Heroes enables us to partner with local organizations to promote awareness of the risk factors of heart disease and stroke while funding life-saving initiatives."
Some of the initiatives the funds have been used for include AED placements in schools and community centers, research on genetic risks, CPR and resuscitation training and sessions for students, seniors and the general public. The launch will take place at Hickman Automotive Group from 2pm to 3pm on 85 Kenmount Road.
"Once again, we are delighted to partner with the Heart and Stroke Foundation of Newfoundland And Labrador for this worthwhile cause. With our support of this event, over $600,000 has been raised over the past two years and it's wonderful that this money stays right here at home, providing support to the people of our province" says Jonathan Hickman, Vice-President of Hickman Automotive Group.
Those interested in learning more or creating a team for the event are asked to visit www.hockeyheroesweekend.com.
For more information contact: Justin Haley Heart and Stroke Foundation, NL (709) 383-1030 [email protected]
2015 SCHOLARSHIP WINNERS!!!
Bert & Jon are pleased to announce that the following participants have been selected by the Department of Education to receive a $1000 Hickman Automotive Group Scholarship.
Each year, up to ten $1000 scholarships are awarded to Level 3 high school graduates, based on student performance on public exams using the Provincial Government exam process.
This year's scholarship winners are:
Samuel Bishop – son of Gary Bishop, Hickman Automotive Group
Emily Nelder – daughter of John Nelder, HML St. John's
Taylor Hiscock – daughter of Hazel Hiscock, HML Carbonear
Victoria Curran – daughter of Paul Curran, Truck Centre
Bailey Cahill – daughter of Leah Cahill, Hickman Automotive Group
Peter Warren – son of Sonya Warren, HML St. John's
Amber Pinsent – daughter of Mike Pinsent, HML Gander
Grant Ellis – son of Craig Ellis, HML Clarenville
Congratulations on a job well done by all!
CONGRATULATIONS TO DENISE NEWHOOK


2015 Fall Service Promotion Winner CONGRATULATIONS to Denise Newhook on winning one of the $1,000 prize draws offered by the Hickman Automotive Group during their 2015 Fall Service Promotion. Denise brought her vehicle in for the Fall Maintenance Service and was one of the Customers whose name was entered for the "Early Bird" Draw proving it pays to come into a Hickman Service location for all your Maintenance needs. Congratulations Denise, and thank you for your business!