COVID-19 Information
As of October 22, only individuals with a VaxPass confirming the appropriate vaccination status will be permitted to enter our facility. This is a reminder to ensure that you have your VaxPass and a valid ID ready when you enter. Alternatively, we do have contactless options for you to avail of if you prefer. The safety of our employees and our customers are our top priority.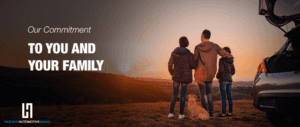 Sales Process
Our dealerships are currently open and aim to ensure the safest environment for our customers and employees.. Masks must be worn at all times when inside our dealership. When enter one of our dealerships for your appointment with your sales representative, you will be greeted verbally, and without a handshake. Each of our sales staff has a Plexiglass barrier in their cubicles to ensure the safety of the customer and sales representative. If you have to wait for a sales professional, we have a fully sanitized waiting area with seating for you. Each chair in the waiting area is approximately 6 feet away from the other chairs to ensure a safe distance from other customers. If you are coming in for a test drive, our sales staff will wipe down any commonly touched areas in the vehicle before and after the test drive. However, if you are uncomfortable coming into our dealership, please avail of our At Home Test Drive options where our sales staff will bring the fully sanitized vehicle of interest to your door. Check out the video below to see how the process works!
Our sales staff are always online and are able to assist at a moments notice for those customers shopping on our website. Simply head to Inventory pages and find the new or pre-owned vehicle you have been looking for. You can then choose to either call us about the vehicle at 709-726-6990 or you can simply click the "Get E-Price" button on the vehicle description page, fill out the required information, and one of our sales staff with be in contact with you to discuss next steps on how we can work with you!
Service Process
Our dealerships are proud to offer fully Contactless Service at this time! To book your service appointment, simply call 709-726-6990 or you can book online at https://www.hickmanchev.ca/service/schedule-service/. When arriving at the dealership, you can choose to place your keys in an envelope and fill out the required information on the form. Once completed, place your envelope with keys inside in the dropbox located at the dealership. Your vehicle will be properly sanitized when dropped off and before it is returned to you. Our service advisors will be in contact with you via phone from start to finish to ensure that you are reminded of your appointment as well as the progress of the work being done on your vehicle. If you have any questions, please do not hesitate to contact your dedicated service advisor!
Pick Up and Drop Off Service
Our dealership is now offering a safe and secure pick up and drop off service to customers within the metro region whether you are at home or at work we have you covered in the safest ways possible. Check out the video below to see how the process works!
Self Service Kiosk
We have also a added completely contactless self service kiosk located in the front lobby of Hickman Chevrolet Cadillac on 85 Kenmount Road and Hickman Chrysler on 20 Peet Street. Drop in at any time, day or night and follow the command prompts on the kiosk screen. Customers can then safely and securely place their keys in one of the designated drop boxes. You will then receive a text message notifying you throughout each step of your vehicles' service from start to finish. You will also receive a PIN in that text message for you to open the designated drop box so that you can pick up your keys upon completion of your service. When your service is complete, one of our Service Advisors will return your keys to the designated drop box at the kiosk. Finally, you will receive another text message letting you know that your service is complete and that your vehicle is ready for pickup.
During these times, we want to remind you that the Hickman Automotive Group is here for you!
If you are unsure or have any questions or concerns about our sales or service process, please feel free to contact us at 709-726-6990.