Community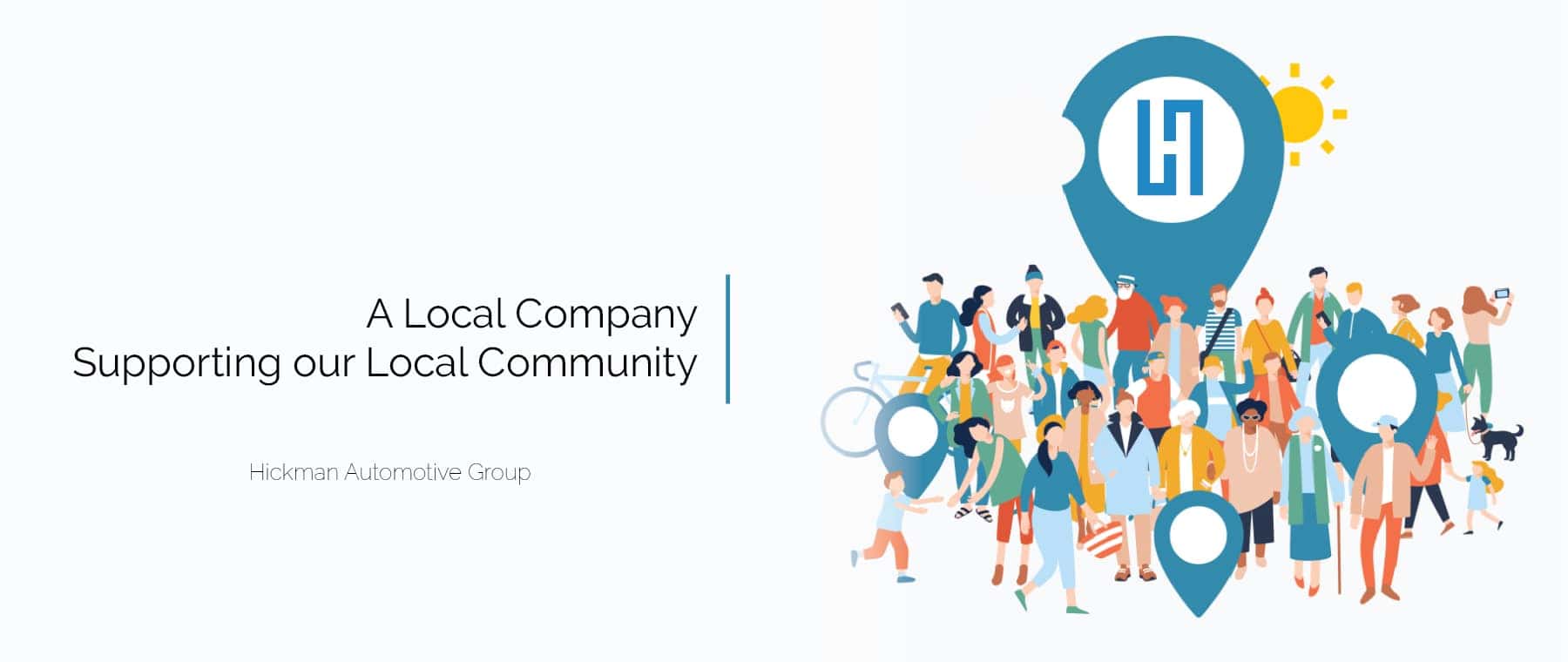 At the Hickman Automotive Group we are inspired by the people within our communities. Supporting local charities, education, safety, and healthy lifestyles are at the forefront of our organization's core values. We believe that Family Drives Everything and that by investing in these initiatives we can truly make a difference in the lives of our community residents.
From raising funds for building new playgrounds for our youth, to organ donation awareness, to supporting our local children's hospital, the Hickman Automotive Group believes that we are only as strong as the community in which we live in and that giving back will improve the quality of life for those inhabitants.
Supporting Our Youth: Tuition For A Year
Each year the Hickman Automotive Group offers Tuition for the Year for one lucky post secondary student. Our organization understands the struggles that can be presented to students as they enter post-secondary education, so helping alleviate any financial stress inspires us to see these students further succeed in their education. This year, our Tuition for a year winner was Jessie Connolly. Congratulations, Jessie!
Supporting our Youth: Janeway Telethon
The Janeway plays a special role in all our lives. It supports our community, our families, and our friends through difficult times. The work and support the Janeway provides here in Newfoundland and Labrador is the reason why we fundraise. To fundraise within our organization, we give the option for every employee to have a pay deduction from their earnings at any amount they would like. Thanks in part to our amazing staff, we are proud to announce that the Hickman Automotive Group has fundraised a total of $10,948.26 for the Janeway Telethon in 2022. We are so honored to be a part of such an incredible event to help support a vital part of our community in Newfoundland and Labrador.
Organ Donation Awareness
Did you know that one organ donor can save up to 8 lives!? That's incredible! However, our biggest challenge is that only about 5% of Newfoundlanders and Labradorians have registered their intent to be organ donors. That is simply not enough. It only takes minutes to register online to become an organ donor at your MYGOVNL.CA account.
Organ donation is a cause close to our organization's heart (literally). Vice President, Jonathan Hickman was born with reflux which caused kidney damage to one of his kidneys. Jonathan spent most of his life in and out of hospitals, that is until January 2015 when his sister, Kim donated her kidney to him. This life-altering transplant breathed new life into Jon, energizing him to truly live his life to the fullest. He has since become an advocate for organ donation and also competed and won the gold medal at the Canadian Transplant Games.
Take the Pledge to Park Your Phone
We believe that there is nothing more important than keeping families safe. Distracted driving is a huge issue in our province that usually gets overlooked, but the realization is that driving distracted can truly change your life, and not for the best. We see it far too often; drivers young and old flipping eyes up and down trying to focus on the road while also focusing on that text message, or snapchat, or that special song you're trying to find in your playlist. Our organization believes that this needs to stop, too many families are at risk. That's why our team at the Hickman Automotive Group has developed the Take the Pledge to Park Your Phone campaign with the goal to further educate residents of Newfoundland and Labrador about the dangers of driving distracted. We are asking drivers across the province to make a promise to never drive distracted. No text, email, or playlist is more important than our lives.